Baraboo Commandery No. 28
KNIGHTS TEMPLAR
---
---
A Brief History
It was in 1896 that over three dozen Knights living in the Baraboo area petitioned the Grand Commandery of Wisconsin to form a new Commandery in Baraboo. On January 20, 1896, dispensation was granted to form and open "Baraboo Commandery Under Dispensation", giving them authorization to hold Conclaves, ballot on petitions, and to confer Orders.
The new Commandery conferred its first Orders on March 2, 1896 with the help of St. John Commandery of Reedsburg, There were eighteen Knights from Baraboo and twenty four from Reedsburg at this conferral. The General Committee of the Grand Commandery was satisfied with the manner in which the Commandery conducted itself thus far and recommended to the Grand Commander that a Charter be issued. On October 14, 1896 a Charter was issued, with the new Commandery to be known as Baraboo Commandery No. 28.
The Commandery thrived for many decades and in February of 1957, the Masonic Temple was destroyed by fire along with all the records and paraphernalia of all bodies that met there. A new Lodge was rededicated in 1959 and all bodies returned to the new building.
In October of 1970 St. John Commandery No.21 of Reedsburg consolidated with Baraboo No. 28. On May 14, 1979, Ft. Winnebago No. 4 of Portage, also consolidated with Baraboo, to form a strong Sauk County Commandery. The Commandery is very active in drill work, degree work and most importantly the charities supported by the Knights Templar.
---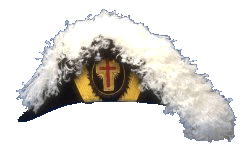 PAST COMMANDERS
NAME: YEAR SERVED:


Kreighton I. McCutchin, Jr. -- 1980, 1981, 1982, 1983
Anthony W. Harper -- 1994
Joseph R. Williamson -- 1995, 1997
Donald R. Wolterstorff -- 1996
---
mastermason.com - York Rite SITES
COUNCIL

C
H
A
P
T
E
R


INTERNET

MAGAZINES

C
O
M
M
A
D
E
R
Y

---
Return to Previous Page
Notice: The Knights Templar background is (C) Copyright 1998, by Dan Pushee, KYCH, and is used by permission. I would like to thank Brother Dan for his excellent work in creating this wonderful background.